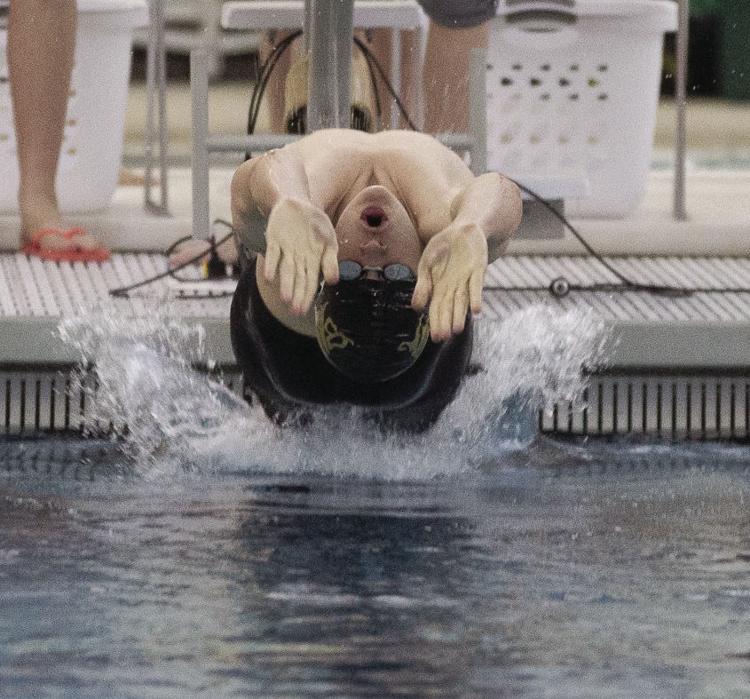 It may not be a coincidence that the Cowboy State was hit with a cold chill, brisk winds and blowing snow this first week after the 2020 3A Wyoming boys state swim meet.
The roads to and from Laramie were closed after the all of teams and fans returned to their respective homes, and there may be a good reason for all of that crazy weather.
"A storm is coming," Buffalo High School swimmer John Wonka said of this year's Bison team and teams to come.
A storm did hit in the form of the Bison at the state meet over the weekend, and if the multiple all-state BHS swimmers and divers have anything to say about it, it's a storm that will continue to brew for many years to come.
After finishing second to Worland at the 3A East conference meet in Rawlins two weeks ago, the Bison team posted the times to best every 3A team in the state save for Lander, a juggernaut swim program that has racked up 24 consecutive state championships.
Second appeared to be a lofty goal for a team competing against programs with double the amount of swimmers and divers and triple the amount of titles.
Yet while the times will forever indicate a second place finish for the Bison, an unfortunate Lander coaching error resulted in a disqualification for the Tigers in the 200 free relay, bumping the Powell relay team up to first, the Bison to fourth, and the entire Buffalo team to third overall at the state meet.
Technically Lander won the relay easily. Officially, the Panthers won in 1 minute, 33.41 seconds. That technicality was enough of a bump in points for Powell to take second with 177 points. Buffalo actually finished with 175 points and officially third.
The coaching error caused a six-point swing in favor of Powell.
"The Lander coaches handed in the card for the 400 free relay instead of the 200 free relay," coach Mike Miller said. "That is against the rules. It was a big debacle. There was a protest. But the right thing was done. It was unfortunate for sure, but those things happen."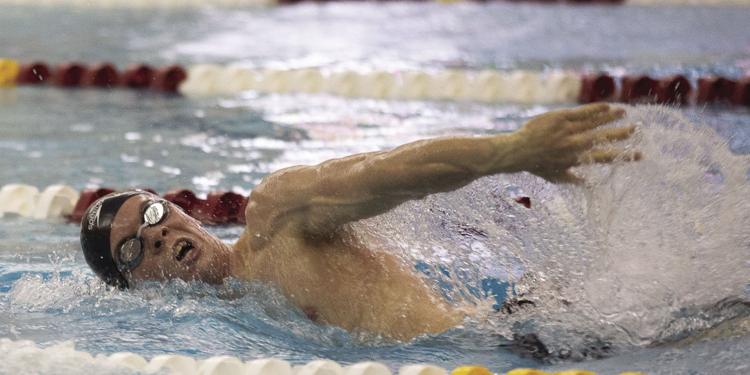 While technically that incident did happen to the detriment of the Bison, plenty more happened in favor of the Buffalo team that left Laramie with three all-state athletes while providing a wake up call for the rest of the conference that last year's eighth place team is about to leave most 3A squads in their wake.
Junior John Wonka finished second behind nationally ranked Nick Kulow of Lander 21.35 seconds to 21.53 in the 50 free to land all-state. His 48.53 in the 100 free was 3.17 seconds behind nationally ranked Kulow. That second place earned him another all state nod.
 "To be honest I was looking toward a state title this year," Wonka said. "But the Kulows are some of the best swimmers in the country, not just the state. Just beating Nick up until that 15 meter mark on the back stretch is an accomplishment in itself."
Freshman Brogan Byram finished in 1:48.74 in the 200 free and 5:00.77 in the 500 free, both all-state times for second places.
Senior diver Seth Felbeck led the pack after the preliminaries and held on to take gold on the board. He beat Preston Plaisted of Lander 360.10 to 355.05.
"Seth has dedicated so much time to this swim team," Wonka said. "He is an amazing swim brother to have. Zach Mills as a diving coach is phenomenal. We were so grateful to have both him and coach Miller on this team. When we saw Seth's final score we stormed him and just celebrated."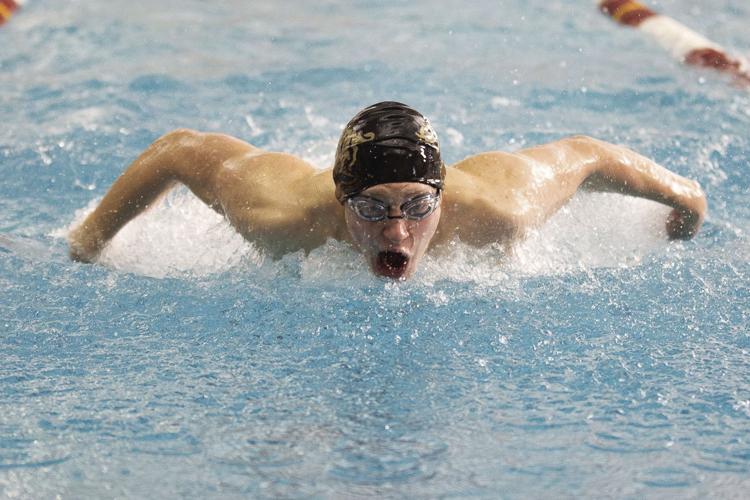 Josiah Bartlett came storming on the diving board as well. The sophomore finished sixth with a 295.95 after coming on strong late in the season. It helped with Mills at his side. He was named 3A assistant coach of the year.
"The divers were great," Miller said. "That was a really nice surprise. We were hoping for Josiah to be in the top 12. He had a great meet, was very consistent and just put it all together."
Charlie Wonka left the state meet a seasoned freshman with third in the 100 breast in 1:01.69, breaking Buffalo USA swim coach Caleb Cohoon's school record time of 1:01.92.
"I've been eyeballing that breast record since the seventh grade," Charlie Wonka said. "A lot of us have been focusing on those records on the wall."
Another school record went down Saturday as well. With Porter Wing swimming the backstroke, Charlie Wonka handling the breaststroke, John Wonka swimming the butterfly and Byram anchoring the race swimming freestyle, they set the new 200 medley relay record in 1:42.88, breaking the 2007 time of 1:42.92.
Wing left state landing 11th in the 200 IM with a 2:25.75 and 12th in the 100 back in 1:05.52.
He also teamed with Keegan Money, Felbeck and John Zorbas to take fourth in the 200 free relay. It's a relay that may go down in infamy.
"We're not taking anything away from Powell," Miller said. "They had a phenomenal meet as well. It was a classic meet of everyone having to do the right things and swim their best. It was great competition."
As for that competition, the next few years of Bison swimming should keep them wondering how much better the Buffalo team will be. With a dynamic group of seventh and eighth graders on the horizon and excitement building amongst underclassmen around BHS, the possibilities are endless.
"I knew that with the freshmen, sophomores and seniors we had on this team that we were going to step up this year and we were going to show them that Buffalo was no longer going to be sitting around and watching idly," John Wonka said. "We built great relationships, we believed and we showed that we are unlike any team out there."
Current record holders in every event may want to take note of the emerging Bison as well.
"There are going to be a lot more team records being broken the next few years," Miller said. "We have a few kids in this program right now where state records aren't out of the question as well."