It may be a lot to ask the Buffalo High School Bison football team, or any team for that matter, to repeat what they did last season.
After falling to 3A Douglas in their home opener, Buffalo reeled off 10 consecutive victories and routed the favored Mountain View Buffaloes in the 2A state title game to bring home the championship from Laramie.
They lost a handful of all-conference and all-state players who lit up opposing teams with incomparable speed, a hard-hitting defense and an offense that kept most teams completely off balance.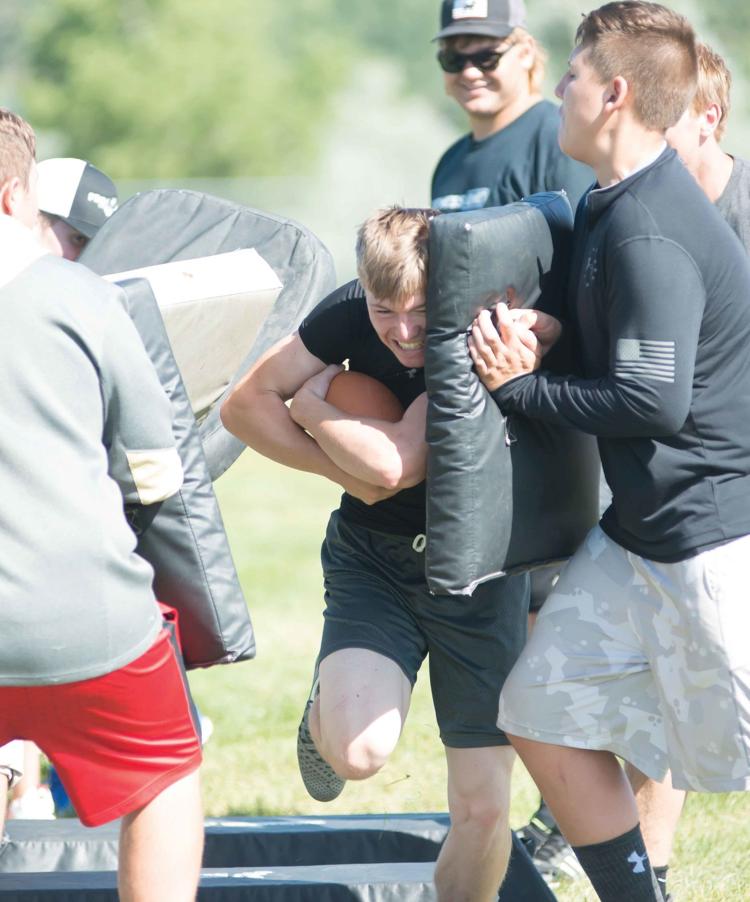 This year, however, the cupboard is anything but bare. The Bison return five all-conference players and five all-state players, and look bigger and stronger than ever. To that mix they will rely on a new group of speedsters looking to expose opposing defenses.
And if there is any pressure on matching the success of last year, it hasn't showed in practice,
"That senior class last year was really good, but we can only be as good as we are, not how any other team in the past was," said senior Anthony Graves. "But I think we are just as good."
Graves is coming off a tough 2018 season that started with tons of promise. After dominating against Worland in a scrimmage to start the season, and having his way with Douglas the first two quarters in the opening game, Graves suffered an ACL tear that knocked him out for the remainder of the season.
It appears the injury didn't room however, as he returns with fellow big men Hunter Pope, Nathan Swanston, Hyrum Hatch and Austyn Carder – none of whom look like they have missed a day in the weight room, lunch room or skipped leg day the past few months.
"We have 11 seniors on this team that have returned this year and they have been taking a great leadership role," coach Rob Hammond said. "Austyn Carder was another guy that had to sit and watch from the sideline last year after an injury. Both he and Anthony Graves are such team guys and they are going to catch teams by surprise who don't have a lot of film on them."
Even with film on seniors Rowen Ruby and Dawson Hatch, teams will still likely struggle to stop either of them. Ruby was a workhorse who posted multiple 200-yard rushing games, mostly in the first halves of those contests.
Hatch emerged as one of the top receivers in the conference despite playing little more than a half of offense in most contests. He was also a menace in the defensive backfield.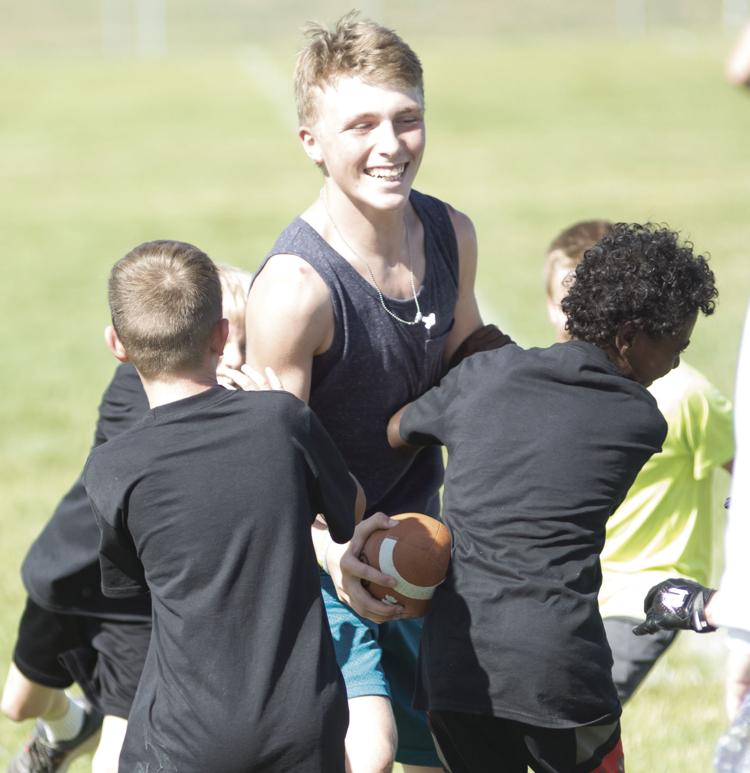 "People don't know how good Dawson or Hyrum Hatch really are," Hammond said. "They are going to surprise some people. And Rowen Ruby is a lot stronger and more explosive. He's been taking weight lifting seriously. This year our speed is different. These are fast guys, but they are also good football players and it shows."
The Bison host Worland for a scrimmage Saturday at BHS. It may not be quite the atmosphere the football camp was over the weekend, but if last year's matchup with the Warriors is any indication, 3A Worland is going to have their hands full.
The Bison lit up the Warriors in last season's scrimmage offensively and defensively from the outset. Buffalo scored early and often, more or less losing track of their touchdowns after about seven.
The Bison defense kept Worland's ball control offense in check with the starters before the underclassmen came in and continued the trend.
This year, however, the scrimmage with the Warriors will have a completely different feel as the opposing coaches decided to go with a new approach.
"We want our teams to be ready week one," Hammond said. "This year's scrimmage is going to be a lot more like a game. The atmosphere is going to be much more game-like. A lot of Worland's best players were sophomores last year, so Saturday is going to be a little more intense."
The intensity won't slow up much in the coming weeks. The Bison head to Douglas for a non-conference game next week. Glenrock comes to Buffalo this year after hosting the Bison for one of the best high school football games in the state last year.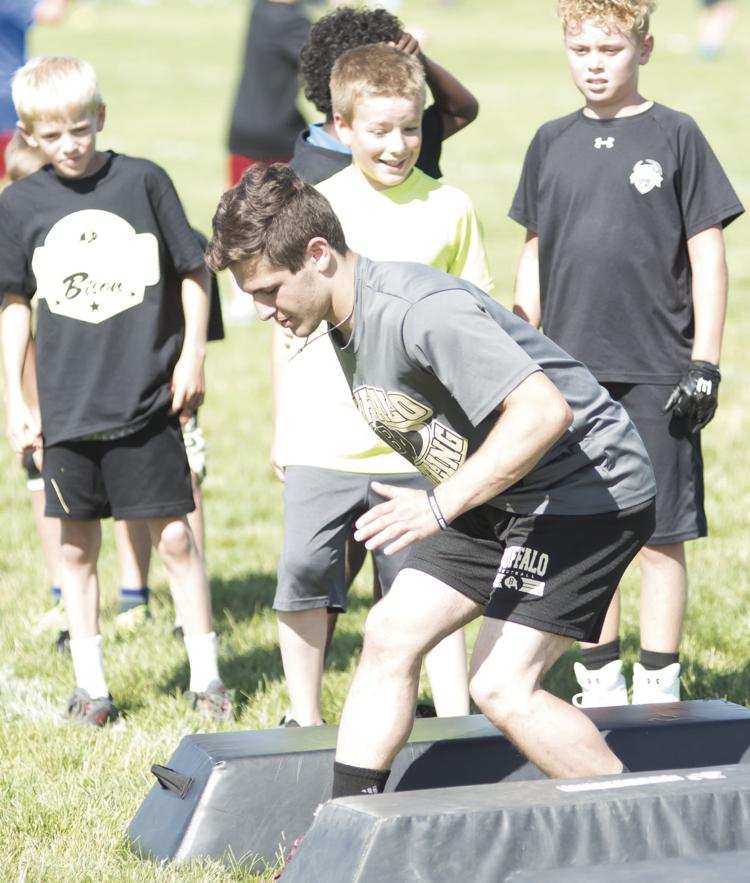 Wheatland gave the Bison trouble in their first matchup last year.
The general consensus around the state, however, is another eventual meeting with Mountain View for the Bison. The Buffaloes aren't a team that is used to losing and return the vast majority of their starters from 2018.
"Mountain View is bigger than we are and have a lot of speed," Hammond said. "That championship game last year started a rivalry. I know that."
This year, however, the Bison won't be able to sneak up on anyone, and unless the Buffaloes put together a remarkable season, the Bison won't be going in as the underdog this year.
"Offensively, we are clicking," Hammond said. "We started the first day of practice running a hurry up offense. It was nice starting practice going up and down and getting some tempo. Right away the kids are having to think and react quickly. These kids want to do things the right way, they want their own identity and they want to be a close-knit team. I'm very happy with where we are at after the first week."