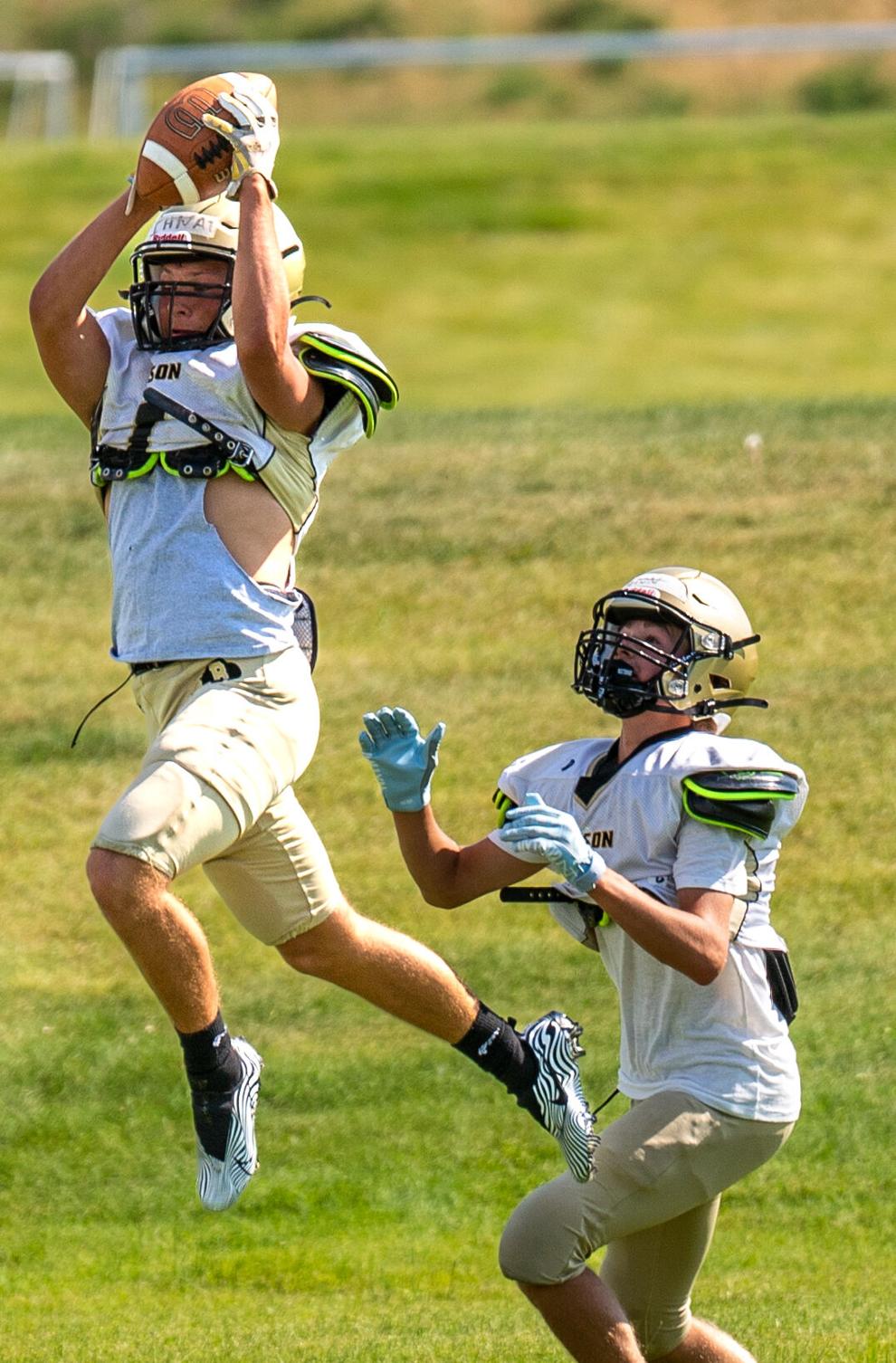 As Buffalo High School football practice began this past Friday afternoon, head coach Rob Hammond and his group of assistant coaches stood at the side of the field, chatting about the plan for the day's activities. 
On the practice field, new and returning players stood in four lines, leading each other through warmup exercises and, every once in a while, reminding each other to clap or pick up the pace. 
The player's ability to lead themselves through their warmups this year is indicative of the leadership and experience — 26 upperclassmen have returned this season — that Hammond said he hopes will lead the Bison to success. 
"We're in a good place, and instead of teaching where to go, we're just refining, when we get there, how to do it the right way," Hammond said. "So we've just, you know, been able to spend a lot of time on technique and just fundamental what we need to do." 
After outdoing expectations during the 2021-22 season — finishing 5-4 (3-2 conference) and making the state quarterfinals — with a very young team, Hammond said he knows that expectations are higher for the Bison this season. 
"The expectations are higher, as they should be," he said. "But, I don't know, we're just going to try to focus on ourselves, you know. We talk about build your own house, and we're going to try to exceed potential again and exceed expectations."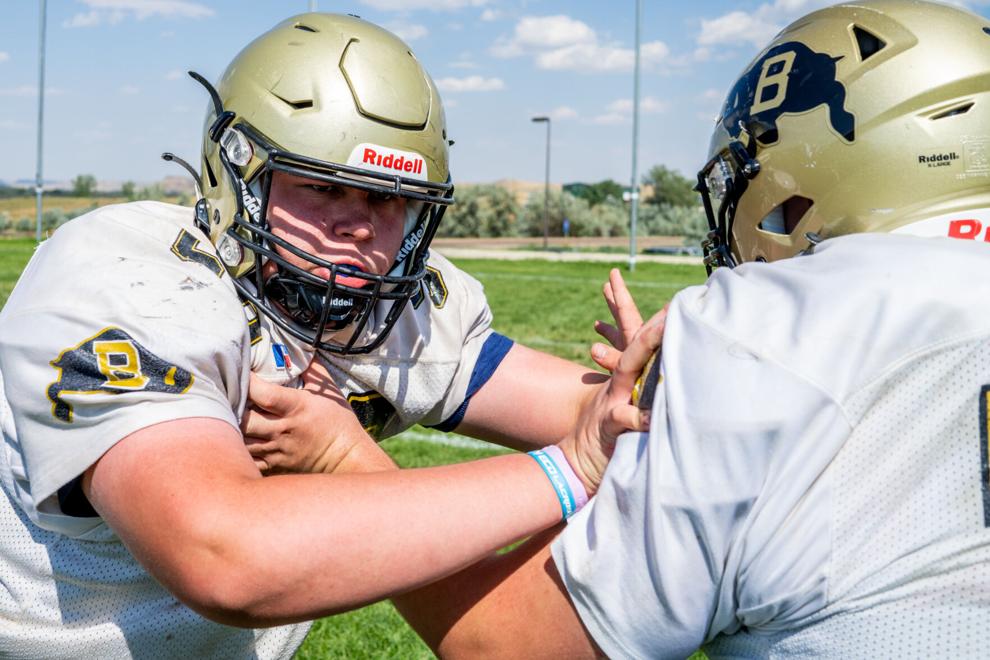 While the team has plenty of returning experience, it lost some major contributors from last year's offense with the graduation of quarterback Jackson Moon, running back Ben Camino and offensive lineman Aidan O'Neill. 
Hammond said that throughout the first week of practice, junior Eli Patterson has established himself as the team's new quarterback. 
"He's a different quarterback than Jackson. He's a better runner," Hammond said. "He's not as polished in the passing game yet, but luckily I can work with him for two years. So, we expect big things out of him." 
In the backfield, Hammond said, the team plans to use a rotation of senior Will Hammond and junior Dawson Palser. Although those two players combined for just 20 rushing attempts last season, Hammond said he is pleased with what he has seen out of them so far. 
"They're different-style backs and so I think, you know, the plan is right now we're going to rotate those guys," Hammond said. "And they both play spots on defense with a lot of contact, so we're going to do that to keep them healthy too."
Though the team has multiple primary contributors to replace on offense, wide receiver Blake Bell — last year's only all-state selection for the Bison — returns as a likely focal point during his senior year. 
Bell finished the 2021-22 season with 37 receptions for 829 yards — or an average of 92.1 yards per game — good for the second-most receiving yards per game of any player in 3A. He also added 11 receiving touchdowns. 
"The spotlight's going to be on Blake," Hammond said. "You know, he's our only returning all- state player, he's getting looks from colleges, so the spotlight will be on him." 
On the defensive side, several key contributors return, including all-conference defender Palser and Patterson, two of the top 10 defenders in 3A, according to defensive points per game. The Bison also return defensive back Michael Ihnat, who led the team with three interceptions last season.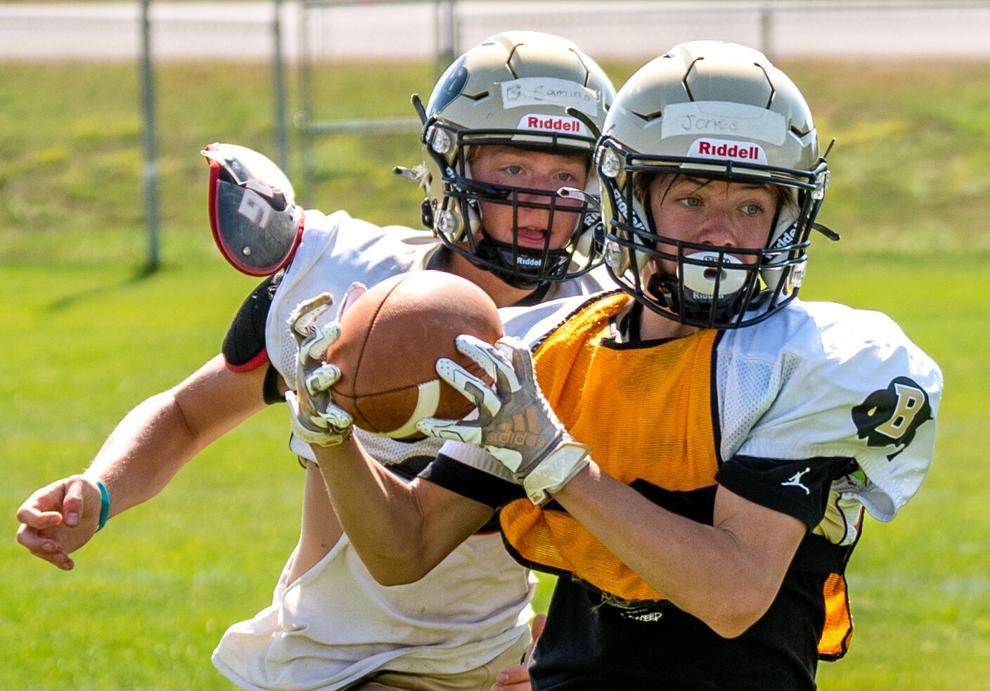 With the last weeks of practice well underway, Hammond said the primary thing he's working on is making sure the team's offensive line gels more as a unit — though returning starters Marko Glassock, Daniel Brown and Brogan Byram should speed that up. 
"Then beyond that, I don't know, we're where we need to be," Hammond said. "By the time next week comes around, it'll be time to play somebody else." 
The Bison open their 2022-23 season with a zero week scrimmage against Lovell on Saturday, ahead of their first regular season game at home against Newcastle on Sept. 2.