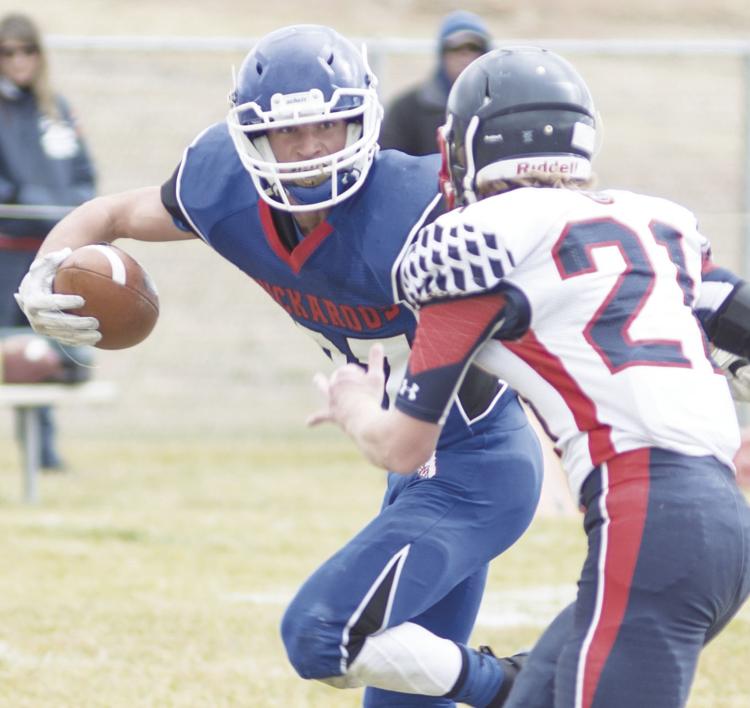 Lingle-Ft. Laramie gathered around their coach during a timeout in the first half against the Kaycee High School Buckaroos in Kaycee on Friday, and the coach screamed out words of encouragement heard across the field and into the parking lot.
"We can play with these guys," the coach said as he tried to get his team pumped up.
When it was all said and done, the Doggers played against the Buckaroos, but it's hard to say they really played with the Buckaroos.
Kaycee secured a spot in the playoffs with a convincing 46-19 win over the Doggers and looked as sharp as they have all season.
"We were wanting to handle them pretty good and get some of our younger guys some playing time," coach Tony Rouse said. "It's been a little bit more of a struggle this year than last year for dang sure. But it was nice getting some younger guys some playing time."
Senior captain Ben Kukowski ran wild on the Doggers. Kukowski capitalized on a botched Dogger punt for a touchdown run to start the scoring for the Buckaroos. He then found the end zone on a third and 25 scoring pass from Eric Cleveleand to put the Buckaroos up 13-7 with 3:14 left in the first period.
"Ben played really well," Rouse said. "Last year he tore his ACL at the beginning of the year or else he would have been our starting linebacker on defense."
When Kukowski wasn't running wild on the Doggers on offense, he was wreaking havoc on defense and stopping Lingle-Ft. Laramie runners dead in their tracks.
If Kukowski wasn't doing damage rushing for the Buckaroos, fellow senior Hunter Rouse was carving up the Dogger defense for huge chunks of yardage.
A Rouse touchdown run after a Buckaroo fumble recovery put Kaycee up 20-7 in the second.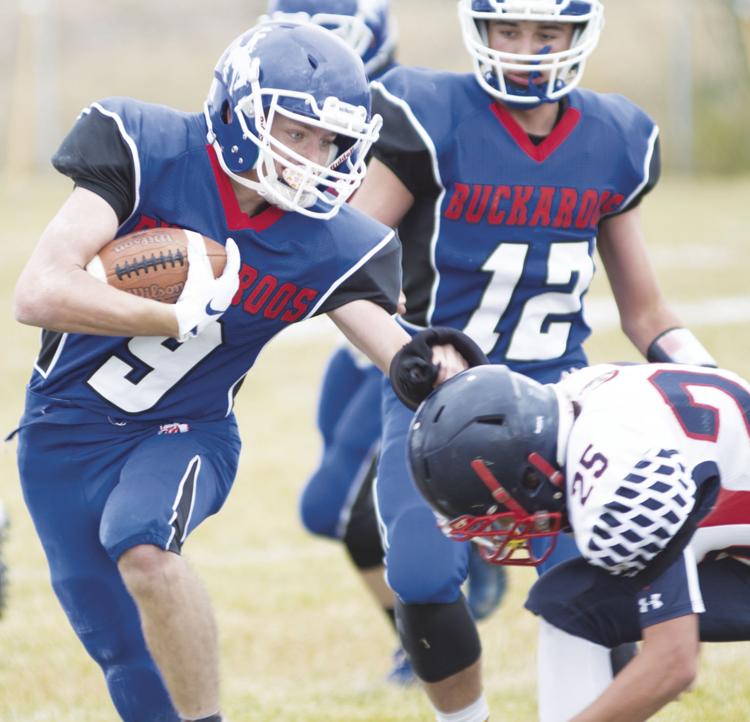 Rhys Stafford put the Buckaroos up 27-7 on a long touchdown catch and run with 0.49 seconds left in the first half.
"We didn't start out blocking really well, but that's just lack of experience," Rouse said. "We tackled really well, and it was a pretty clean game on both sides of the ball as opposed to last week."
The Buckaroos didn't miss a beat coming out of halftime. Kaycee ate up huge chunks of yardage on nearly every play and took up half of the third quarter driving deep into Dogger territory. A fourth and short touchdown rush from Cleveland followed by his extra point run up the middle put the Buckaroos well ahead, 34-7, with just over five minutes to go in the third frame.
The Doggers answered that score with a touchdown of their own, but the Buckaroos had the final word with another score in the third to make it 40-13 with just over a minute to go in the quarter.
Diminutive Dogger quarterback Cooper Hill did a nice job avoiding heavy Buckaroo pressure all game long, and just minutes into the fourth quarter connected on a bomb to the Kaycee 1-yard line to set up their final score of the game.
After an unsuccessful onside kick by the Doggers, Dion Ealy scored on a highlight reel 40-yard touchdown run to put away Lingle-Ft. Laramie for good.
Kaycee led 46-19 with 7:54 to go in the fourth.
Freshman Harley Davis stepped up on the ensuing kickoff and stopped the Lingle returner on a big hit to force a long field for the Doggers.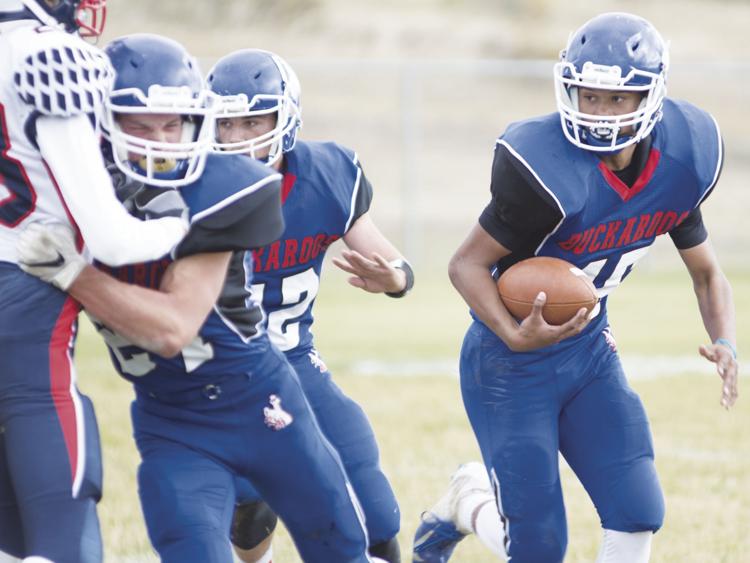 The Doggers would hit their 300-pound receiver a few times as they attempted a comeback late in the fourth, but a big fourth down tackle by Nathan Largent forced the final turnover on downs and led to the Buckaroos running out the final minutes.
"We weren't quite ready for their hook and ladder," Rouse said. "And that big kid is by far their best athlete. For as big as he is, he is quick and athletic. But we did a good job wrapping him up for the most part."
What the Buckaroos did wrap up for sure is a spot in the post season. Kaycee has a shot at finishing No. 1 or 2 and hosting a playoff game.
"We're not giving up the east yet," Rouse said. "We are absolutely going to go out there and try to win these next two games. Our goal is to be No. 1 in the east."
The Buckaroos have a pair of road games left on the schedule. First an interesting matchup with Hanna-Elk Mountain. Then a trip north to NSI.
Either way it looks like at least one more home game for the Buckaroos.