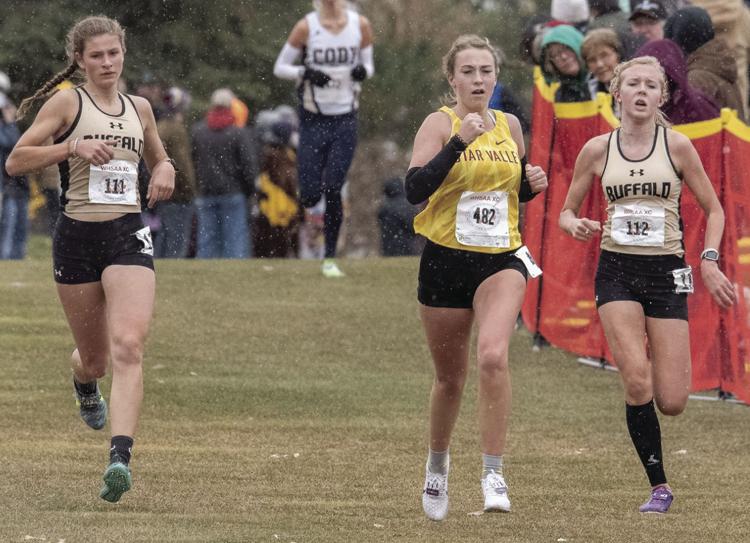 The forecast may have been off, but the Buffalo High School Lady Bison cross-country runners were on Saturday afternoon in Afton, as they raced to third place at the 3A state cross country meet, landing a pair of runners in the top 10 and another just short of an all-state nod.
Kendall Tietjen finished all state for the second consecutive year with a time of 20 minutes, 19.69 seconds for fifth. Lexi Rule earned all state honors in 20:21.11 for eighth. Elizabeth Farris finished 11th in 20:39.93l, missing all state by a few seconds.
The Bison boys finished 10th overall with Kollin Milmine landing 18th in 18:11.04. Alex Cahhal landed 22nd in 18:23.48. Massimo Haas finished 61st in 19:39.94.
Cody took the team title on the girls side. Star Valley finished 3A champions on the boys side.
"Kendall ran really well on a pretty tough course," coach Sandy Moon said. "I was proud of Lexi because she finished just out of the top 10 last year and got 11th. This year she made all state. Elizabeth ran really well, too. It was a great meet."
Freshman Alaina Gross finished 44th for the Lady Bison in 22:36.18. Gabrielle Grabin crossed in 22:38.62 for 46th. Cantrell Rosalez finished in 22:48.02 to help the Lady Bison to some hardware. Maggie Olsen landed 61st in 23:38.24.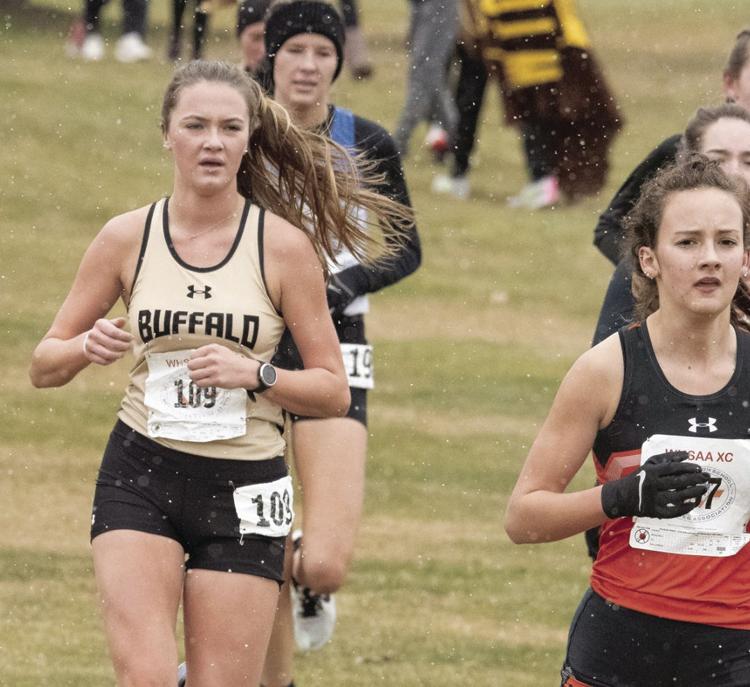 On the boys side Andy Wages ran a 19:44.18 for 63rd. Josiah Bartlett finished in 19:50.12 for 66th. Kael Bentonran a 20:51.20 for 84th.
"Kollin and Alex were the second and third boys to cross from this side of the state," Moon said. "The other side of the state was smoking fast."
What was supposed to be a relatively warm, sunny day turned into a snowstorm during the girls race. Steep inclines and stiff competition also greeted the Buffalo runners.
"We are competing against bigger schools," Moon said. "Star Valley and Cody have twice as many students as we do. I feel like our kids did all they could all year long facing some long odds."
A third place trophy should be a nice addition to the BHS trophy case.
"This team, I would say, is one of the hardest working group of kids I have coached," Moon said. "They did everything without complaining, had faith in themselves and the coaches and had a great season."