All eyes around the Johnson County YMCA pool were on freshman Olivia Maertens as she stepped out onto the diving board, toes pointed and eyes focused. She bounced once, twice — and the board bucked under her feet, sending her stumbling back a step. The crowd let out a collective breath.
Maertens retreated and took a deep breath, squared her shoulders and gathered her courage.
"That's definitely the hardest part in a meet," Maertens said. "Usually in swim practice, there's swimmers swimming and everything else is going, but in competition it's just you."
She turned and approached the end of the diving board. This time, she sprang off the board to twist through the air for a double, her first time completing the difficult dive in front of an audience.
Maertens was one of three Buffalo High School freshmen who stood out at Friday's home meet, as the Bison came in just 10 points behind three-time defending state champion Lander Valley High School and won six of 12 individual events. Maertens and fellow freshman Hannah Southerland represent Buffalo's diving contingent, a notable addition for a team that has searched for diving talent for years. Friday, Southerland claimed first in diving and qualified for state with her high-scoring inward pike.
"Both of the girls had some dives where they looked amazing," head coach Ron Chapin said. "Hannah had one dive where she got sevens, so that looked great."
Both divers have gymnastics backgrounds, which helps them with height and form in their dives. According to Southerland, the hardest part is keeping her legs together midair, as they "tend to go everywhere."
"They only had one problem, and that was doing doubles," Chapin said. "And that was the last dive of the day, and I've seen them do some very good-looking doubles (in practice.)"
It's much easier to complete dives in a busy pool at practice. Matching that level of precision when faced with the silent anticipation of an attentive meet audience is something that will come in time, as nerves start to fade in the calming light of experience.
"(I'll tell myself) that I've done it in practice, and I can do it here," Maertens said. "Just calm down. You know you can do it."
Southerland and Maertens were two of three freshmen making a name for themselves this past weekend in the home meet Friday.
"I'm really happy with freshman Erin Houseman," Chapin said. "She probably had the toughest day. She had to swim the butterfly in the medley relay, then do the 200 IM, which has another 50 butterfly, and then she had to do the 100 butterfly. So she had a lot of butterfly that day, and that's a tough event. But the great news is she qualified (for state) in both the 200 IM and the 100 butterfly, and that's great for a freshman."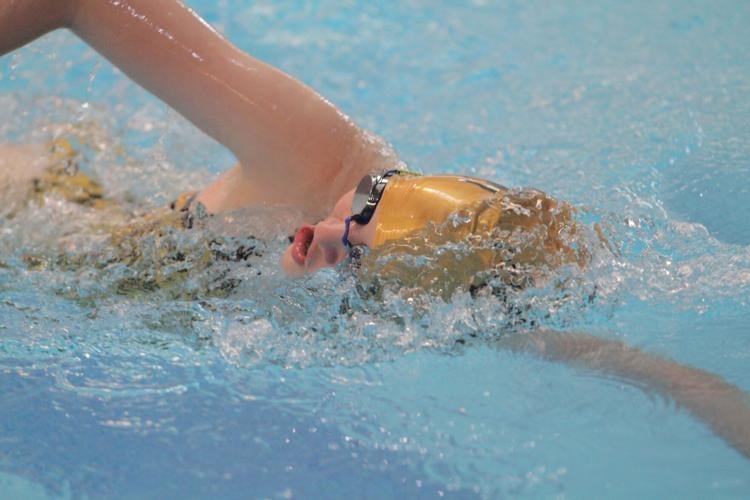 Houseman and Southerland weren't the only state qualifications Buffalo saw this weekend. Sophomore Keesee Bennett qualified in the 100 butterfly, while sophomore Vivyan Gripp passed for the 200 individual medley, as well as the 100 breaststroke with her first-place finish Friday. Sophomore Sarah Johnson qualified for the 100 backstroke, and senior Luci Riddle had qualifying times in the 100 backstroke and 50 freestyle.
Junior Grace Wagner qualified with wins in both the 50 and 100 freestyle, touching the wall less than one second ahead of the Lander runner-up each time. And the biggest Buffalo win came from junior Makenna Lambert. She qualified for state in nearly every event she competed in, including the 50, 100 and 500 freestyle; 100 backstroke; 100 butterfly and 200 individual medley.
Friday, Lambert claimed first place in the 200 individual medley by a full six seconds. Her time was three seconds off her first place at the 2019 state championships.
"She's ahead of where she was last year..." Chapin said. "(Lander) ended up winning by 10 points, but I was just happy how we competed, and how close we were to them."
In Saturday's pentathlon at Campbell County High School, Buffalo claimed second place behind Campbell in a meet dominated by larger 4A schools. And in the individual pentathlon, Lambert came in third overall.
"When you can take second against those 4A schools, you've got to be happy about that," Chapin said. "I was just pleased with our efforts at the two meets."
Chapin plans to spend the week conditioning in preparation for next weekend's Friday meet at Cody.
"At this point, we're just trying to get into shape," Chapin said. "We're doing aerobic conditioning. We had weightlifting this morning. We're just kind of going for long, slow swims. Next week, we might mix things up a little bit as far as what we did against Lander."
For the freshman divers, the focus on conditioning may be mental more than physical. But Lady Bison Triangular diving champion Southerland isn't worried.
"I just try and block (the crowd) out," Southerland said. "I just think about what skill I'm doing. I do what I'm best at."