The Buffalo High School Lady Bison (2-1, 14-2) basketball team remained hot and cashed in on a pair of road wins over the weekend.
Buffalo beat Big Horn (2-1, 11-6) 63-34 Friday night and jumped all over Torrington (1-2, 5-10) early to hold on for a 56-42 victory over the Lady Blazers.
Kaydin Davis led the way with 20 points and five steals against the Lady Rams. Eli Olsen had 13 points and seven boards. Sydni Dobbin finished with eight points and six boards.
"I was a little anxious about the Big Horn game after seeing them a few times this summer," coach Michelle Dahlberg said. "Their press had given us fits."
It was the Lady Bison defense that gave the Lady Rams fits on Friday. Buffalo started out hot and finished the first frame on an assist from Teaghen Sweckard to Kendra Schultze for a bucket, immediately followed by a Davis steal and finish to put the Lady Bison up 20-11.
Big Horn struggled to find any cracks in the Buffalo defense in the second quarter and hesitated to take deep shots. Buffalo outscored the Lady Rams 15-4 in the frame to take a 35-15 lead into the break.
"I thought we set the pace and really controlled the game," Dahlberg said. "We worked really well together. It's a win and we'll take it."
Buffalo shot over 50 percent from the field and held the Lady Rams to just 32 percent.
Freshman Emma Patik finished with five points and five rebounds for the Lady Bison. Seren Chapin put up four points and had to survive some early foul trouble. Kenli Bauer had four points and two assists.
"Big Horn had a little trouble with Eli and Sydni down low," Dahlberg said. "And they struggled to contain Kaydin. She had good shot selection and got some nice layups in transition."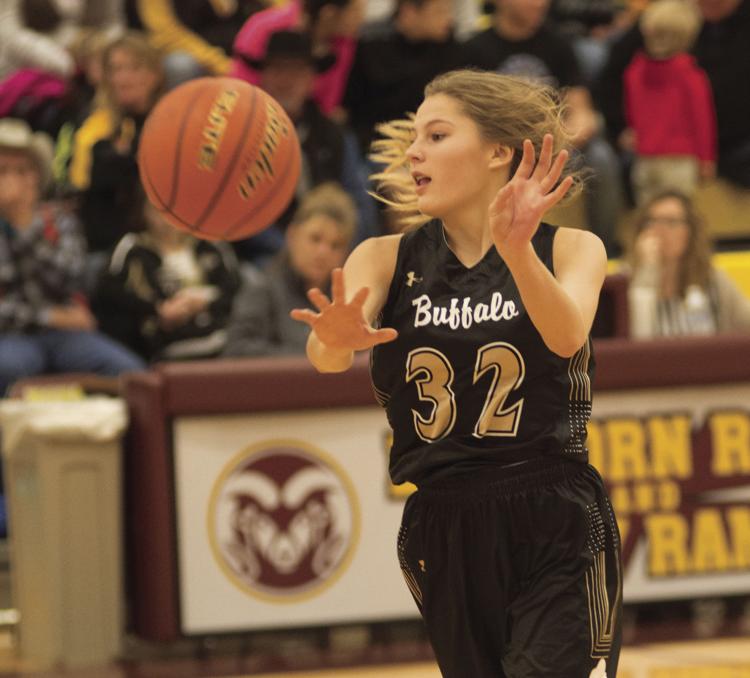 In the final frame Easton Phillippi capped off a three-point play to put the Lady Bison up 31 and keep the rout going. She finished with three points and two rebounds.
Sweckard finished with four points, seven boards, four steals and three assists. Schultze had two points, an assist and a rebound. Quynn Kennedy had two boards.
Torrington didn't have a chance to take a breath before falling behind big to the Lady Bison Saturday. Buffalo led the Lady Blazers 22-2 after one quarter and 36-11 after two.
Davis finished with 21 points, five rebounds and four steals against Torrington. She was 3 of 5 from behind the arc. Chapin had 14 points and three steals. Olsen was 7 of 8 from the line for 13 points and seven boards.
Up big in the fourth Buffalo took their foot off the gas and Torrington turned the quarter into a little more physical affair as they are reportedly apt to do. Buffalo was happy to keep the ball on the perimeter and keep from getting banged up on the defensive end. The Lady Bison have a handful of injuries to recover from as they get ready for a trip to Rawlins (2-0, 10-5) on Saturday.
Dobbin finished with four points and seven boards against the Lady Blazers. Patik added two points and three rebounds. Sweckard had a point, seven rebounds and nine steals. Bauer had one point, three boards and two steals.
"We're pretty happy with where we are right now. We're trying to find ways to stick together and stay confident," Dahlberg said. "We'll have our work cut out in Rawlins. They are a lot like us. They have good posts and good guards. They are fast and athletic. It will be a challenge."