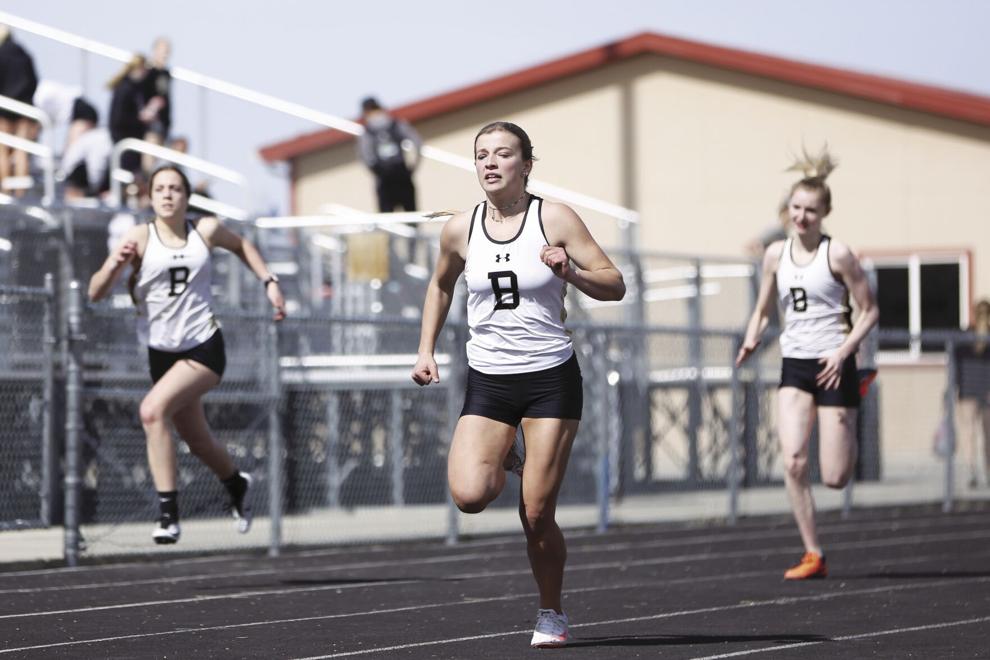 On Friday, over 1,200 athletes representing 35 schools converged on Black Hills State University in Spearfish, South Dakota, for the Queen City Classic track and field invitational. When the dust settled after a full day of events, two Buffalo High School athletes had come away with first-place finishes.
Sophomore pole vaulter Olivia Maertens vaulted 9 feet, 6 inches to claim first place, and senior sprinter and hurdler Kendall Tietjen finished first in the 300-meter hurdles with a season-best time of 47.53 seconds.
"Anytime you can come away with a meet champion in that size of a meet with that level of competition is very exciting," coach Ryan Mader said. "I'm excited to keep pushing forward."
In addition to those top finishes, the team had 28 personal bests or season bests and some new state prequalifying times and marks.
Senior distance runner Lexi Rule set a new career best in the 1600-meter run with a time of 5:36.53. 
"She's gotten a lot faster this year and is really starting to find her stride after basketball season," Mader said. 
Sophomore hurdler Carly Norman continues to drop time and finished in second place with a new personal best.
"Right now, our volume, intensity and reps are pretty intense and that will continue through April," Mader said. "Anytime we get PRs this time of the season, it is a bonus. We're not necessarily training for those right now."
The girls team finished seventh out of 35 teams. 
On the boys side, senior Ben Camino took third place in the high jump with a jump of 6 feet — a mark he has been chasing. 
"That's not only a qualifying number, it's a number he's been chasing for about two years now," Mader said. "That's a big pressure relief for him and it breaks a mental barrier. We're excited to see where he goes."
The 4x800 relay team finished in second place with a 3A state prequalifying time. Composed of freshmen Zach Freise and Cole Rasmuson, sophomore Brodyn Lambert and junior Ryer Morrison, the team had never run the relay together and so entered the meet with a "no time." Because they had no time, they ran in the first, slower heat and still managed to place second overall despite not being pushed by the other runners in the field.
"We definitely knew that they had a chance to qualify, knowing what their marks are," Mader said. "The cool thing about that relay is that they ran in that slower heat, and they were just out there ahead, running."
The team is scheduled to go to Worland on Thursday, but that may change depending on the weather.
"If we do go to that meet and we're able to get over the mountain, we're looking at cold temperatures and that's not ideal because it does increase the potential for injuries," Mader said. "It would be a good week to get some kids in some different events. We'll work on keeping them loose and backing some kids off."