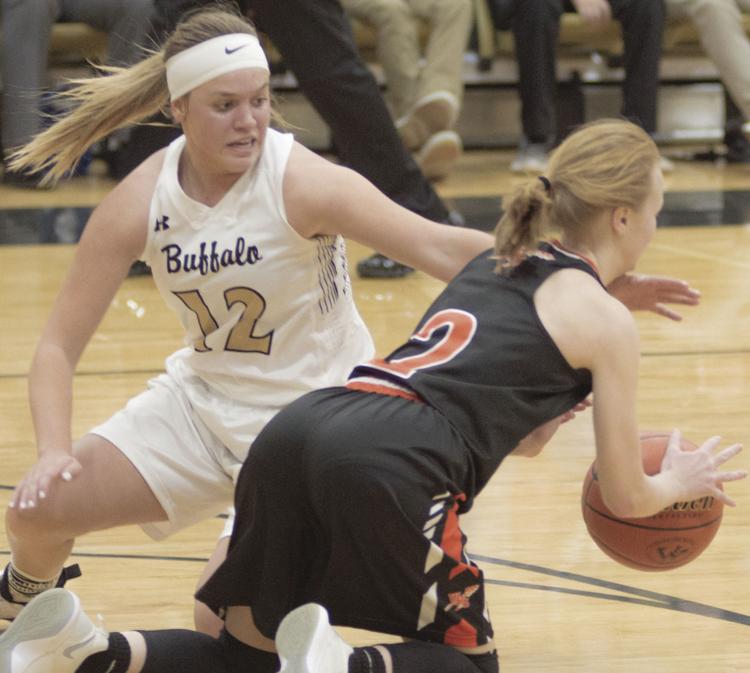 Kaydin Davis poured in 23 points and Sydni Dobbin added 10 Saturday afternoon as the Buffalo High School Lady Bison basketball team dominated Worland 61-40 at home.
It was the second consecutive game against the Lady Warriors, and after a 20-point win last week in Worland, coach Michelle Dahlberg was looking for improvements in a handful of areas, and she got them.
"We said we wanted to improve statistically," Dahlberg said. "And we shot better, we turned the ball over less, we created more turnovers and we forced them to shoot a lower percentage."
Davis set the tone right away in front of a huge home crowd, grabbing offensive boards and putting a shot up and in to put the Lady Bison up 2-0.
Jordyn McNamee drained a long jumper after a steal by Teaghen Sweckard, Seren Chapin hit an open jumper and McNamee knocked down a long shot from beyond the arc to put the Lady Bison up 11-4.
A buzzer beater from Davis ended the first quarter with Buffalo up 17-8, and the way they were playing Worland was fortunate to only be down nine heading into the second.
"We did a lot of things well," Dahlberg said. "We scored in transition and in the paint and hit some open shots. We did a nice job of spreading it around on offense."
Buffalo pulled away quickly in the second frame and went on a big run capped by a basket from Kendra Schultze and pair of free throws from Kenli Bauer to put the Lady Bison up 31-10.
Worland put together consecutive scores to end the period, but Buffalo still took a comfortable 31-18 lead into halftime.
The Lady Bison had their highest scoring output in the third as Davis came out on fire after the break, Dobbin got in and had her way down low and Buffalo built the lead to 17 heading into the fourth.
"We are coming together as a team," Dahlberg said. "Players are challenging themselves and stepping up into more challenging roles and we are just getting stronger as a unit."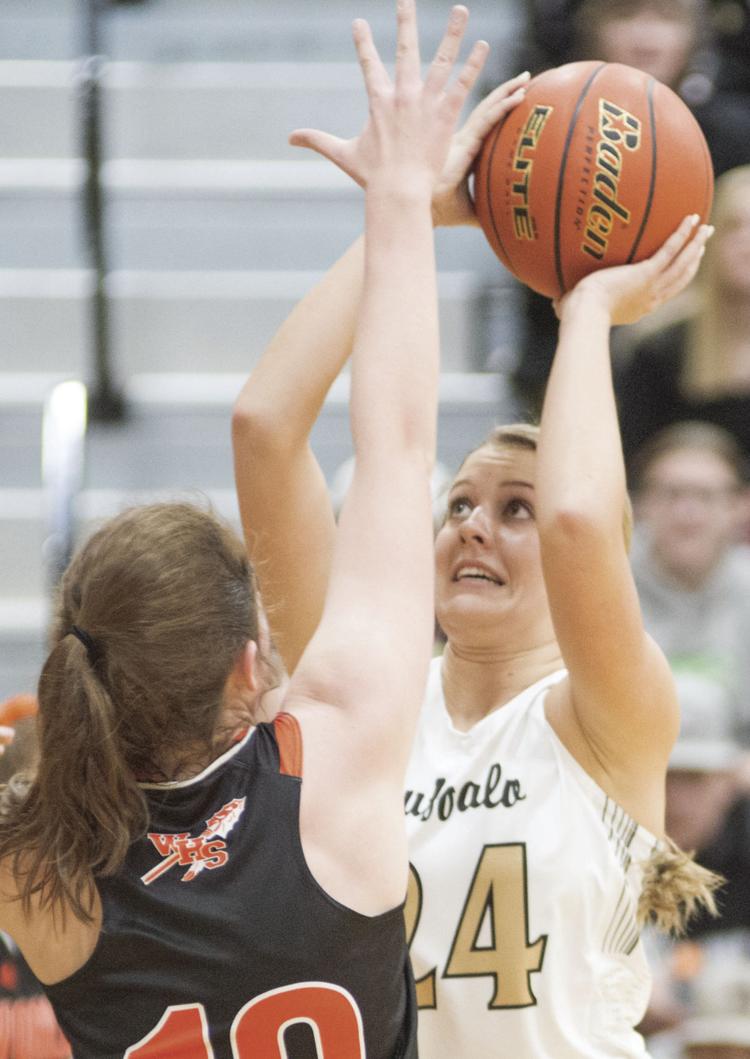 The final frame got out of hand quickly after two steals by Bauer. Davis finished after the first theft and ended up at the line after the second.
Davis then grabbed a pair of steals as she finished the first and Bauer ended up with a lay in on the second to put the Lady Bison up 61-37.
Davis finished with 23 points and five steals on the day. Bauer added four points and two steals.
Dobbin finished in double digits with 10 points and hauled in a pair of offensive boards.
"With Eli Olsen out with an injury, Teaghen Sweckard had to step in there and play some post defense and post offense," Dahlberg said. "I was so pleased with her effort and her heart. She was going up against a couple of girls that were much taller and stronger and she got in there and battled. Her team play and her heart always impresses me."
Sweckard finished with five points, three offensive boards and a pair of steals.
Chapin had four assists to go along with eight points and three steals.
The Lady Bison will take a 4-0 record to Sheridan on Thursday where they will face the 4A Lady Broncs.
"This team's big goal is to be at that state tournament," Dahlberg said. "They are working hard to put themselves in that position."