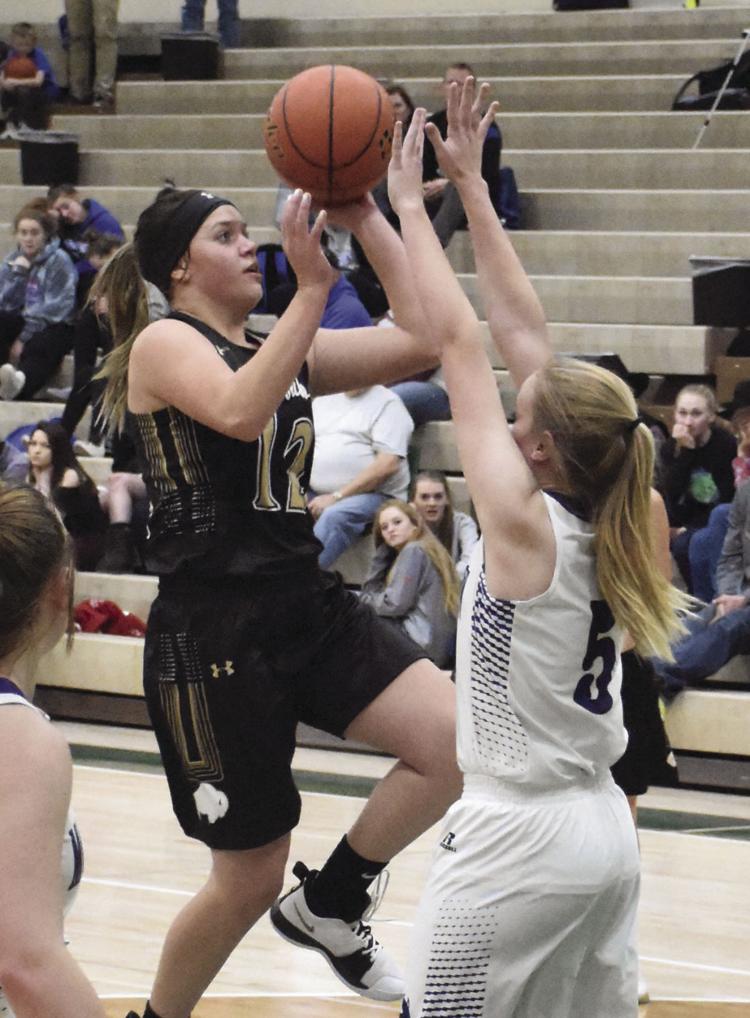 The Buffalo High School Lady Bison basketball team was tested early and often at the Winter Classic in Pinedale over the weekend, but still came out on top in a pair of games before dropping their final matchup.
Buffalo was pushed by Mountain View to start things out on Friday but pulled out the 55-51 victory.
The Lady Bison jumped out to an 18-0 first quarter lead against Big Piney on Saturday and cruised to a 52-22 win.
After a quick turnaround and little rest after the Big Piney win, future University of Wyoming player McKinley Bradshaw led her Lyman squad to a 53-44 win over the Lady Bison.
"Bradshaw is good," coach Michelle Dahlberg said. "She has really learned to create for herself and create for others on her team."
The Lady Bison racked up 32 points in the paint in game one against Mountain View and shot lights out from the field.
Kaydin Davis led the way with 15 points and six assists. Eli Olsen added 13 points and five rebounds. Jordyn McNamee put up nine points and grabbed four boards.
The Lady Buffalos managed to tie things up midway through the fourth frame, but the hot shooting continued for the Lady Bison as they managed to pull away late.
Teaghen Sweckard finished with eight points, seven boards and six assists. Seren Chapin added seven points, five boards and three steals. Kenli Bauer drained one from deep to finish with three points, three rebounds and a pair of assists. Sydni Dobbin finished with three boards and a pair of assists.
Big Piney had no answers for the Lady Bison's defensive pressure and struggled to grab defensive boards. Buffalo finished with 18 offensive rebounds to the Lady Wranglers four.
Davis and Sweckard combined for six offensive boards. Chapin led the way with 14 points and six steals in 18 minutes on the floor.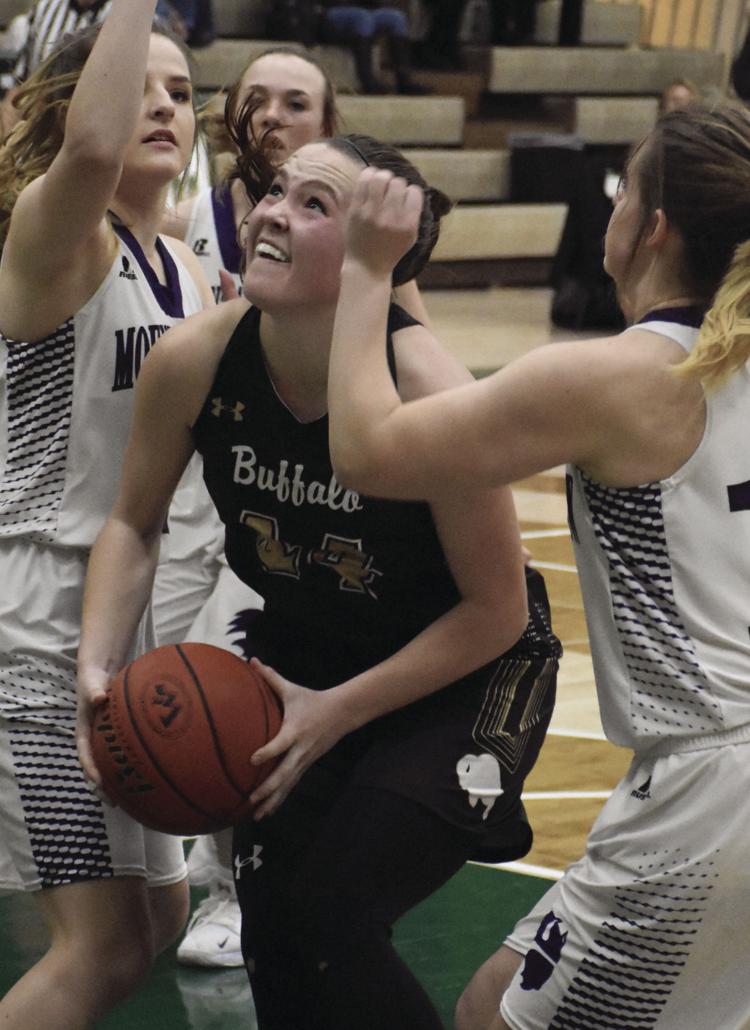 The Lady Bison also lived at the charity stripe. Buffalo took 25 shots from the line compared to three for Big Piney.
McNamee drained a pair from behind the arc to finish with eight points. She also added five boards and two steals.
Davis and Olsen finished with eight points apiece. Quynn Kennedy added four points; Kendra Shultze, three; Bauer, three; Easton Phillippi, two and Sweckard, two.
Riley Fowler dished out one assist. Emma Patik pulled down one rebound.
The Lady Bison took a lead into halftime against Lyman shortly after the win against Big Piney. But the Lady Eagles went on to outscore Buffalo 29-18 in the second half.
Lyman's Bradshaw finished with 28 points, 12 boards and six steals.
The Lady Bison might not have had their legs under them with the quick turnaround. Buffalo shot just 1 of 14 from deep, but statistically outshined the Lady Eagles in pretty much every column. The Lady Bison forced more turnovers, killed them on the offensive glass and crushed them on second chance points.
Davis finished with 15 points, seven assists and seven boards. Olsen added 13; Sweckard, 11; Chapin, nine and Bauer, two.
It was just the first loss on the season for Buffalo. They will look to start a new win streak at home this weekend. The Lady Bison will take on Wheatland at 5:30 p.m. Friday. Saturday Buffalo will host Burns for a 12:30 p.m. tip time.