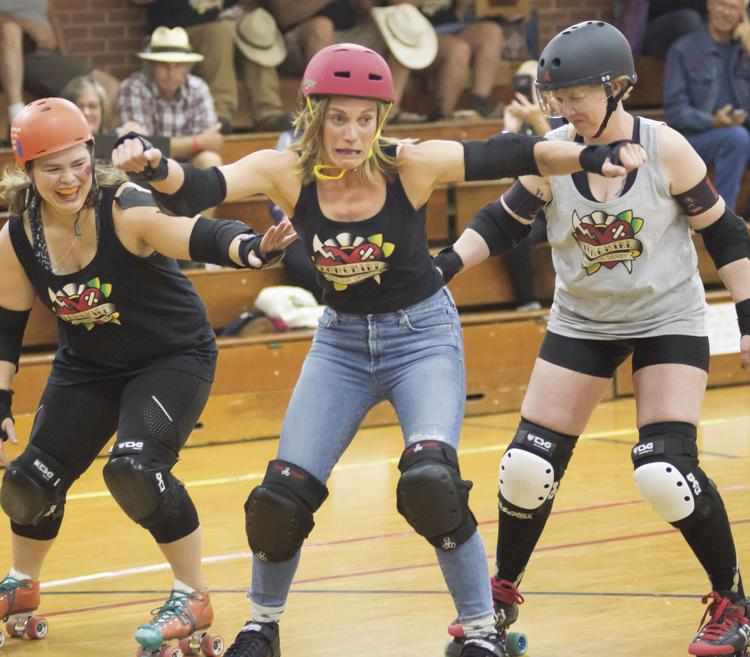 If Longmire star Katee Sackhoff was considering competing against the Bomber Mountain Derby Devils and their peers from around the region on Sunday, she apparently had a change of heart after seeing the junior derby skaters display their skills to start out the show.
"I didn't think I was going to be participating. I thought I might put on some skates and judge the competition or something," Sackhoff said. "I didn't think I was jumping into a professional roller derby bout."
Thankfully for everyone involved, Sackhoff shook off her nerves and geared up for a little friendly lap around the track.
 "It was back and forth with her handler whether or not she was going to skate," Derby Devil president Jami Clifford said. "When she decided to skate her assistant said she needed people on both sides of her to make sure she didn't fall."
Sackhoff did manage a few laps around the track, and while she may not have stayed upright the entire time, the crowd did get to see the star in action as she got a taste of what roller derby is all about.
Katee "The Terror" Sackhoff skated around for a couple of preview laps to help introduce the big crowd to the rules of the sport, all  while trying her best to keep low and not hit the floor. They weren't exactly the kind of roller skates she is used to renting at the local rink.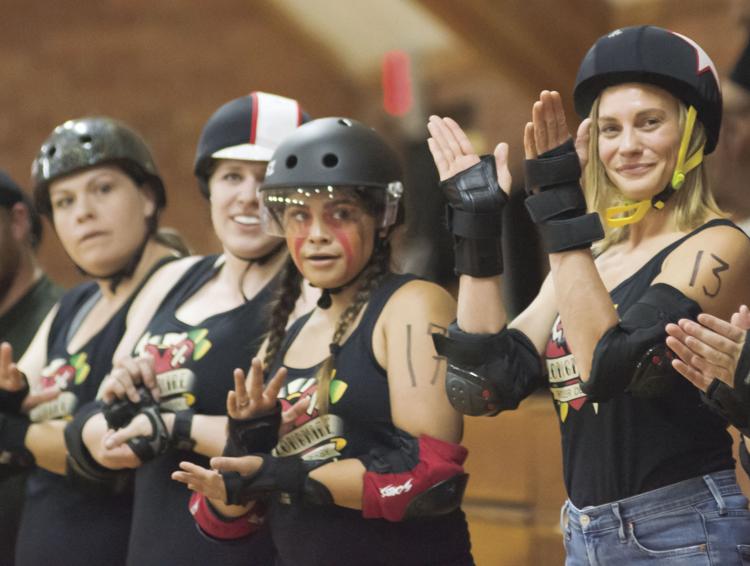 "The Terror" gave the crowd a little show and even invented a move of her own while taking a shot at jammer, falling to her knees and crawling through an opponent's legs while attempting to get better positioning.
"It just seemed like the right thing to do," Sackhoff said. "You find the tallest person and crawl under their legs. I don't know why it hasn't been done before."
It wasn't exactly a legal move any of the derby ladies were familiar with.
"I have never seen that done before," Clifford said. "That would be a new move. I guess we can call it the Katee Sackhoff move."
Stars A Martinez, John Bishop and Robert Taylor who, coincidently, decided not to strap on skates and pads, joined Sackhoff. Bishop helped Macy Johnson keep track of the action in the middle of the floor. Martinez opted to keep his distance and enjoy the show.
"All of the stars were pretty impressed by the skill level and the physicality," Clifford said. "Most people there, including them, had never seen roller derby before."
The Longmire crew took plenty of time signing autographs and mingling with the crowd in between the junior and senior bouts.
"The crowd got what they wanted," Clifford said. "It went really well. It was fun and omething different for people to enjoy. Katee said it was awesome and I think she wants to do it again next year."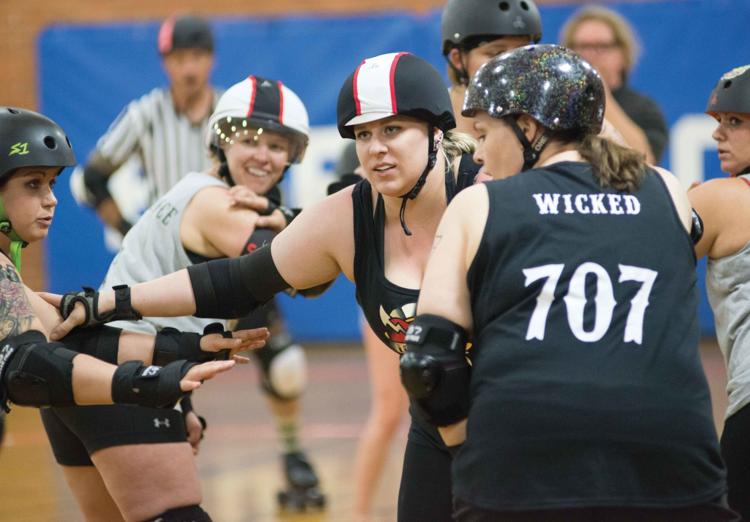 The first season of Sackhoff's new Netflix series "Another Life" debuted Thursday with all 10 episodes available worldwide for fans to enjoy.
The series is about an alien artifact that lands on Earth and the government needs to figure out whether it is friend or foe. It is up to Sackhoff and her crew to follow a signal into space and determine whether or not they are going to have to save the planet.
"It's something that has been part of our lives for the last year and half. You just give it all you have and let the chips lay where they fall," Sackhoff said. "Next year I hope to be back in Buffalo into a second season. Hopefully we can keep doing things like roller derby to keep the fans engaged and participating and continue to add aspects to Longmire Days people will continue to come back for. I love it here. Every time I come here I really enjoy it."